Low profile underground plastic tanks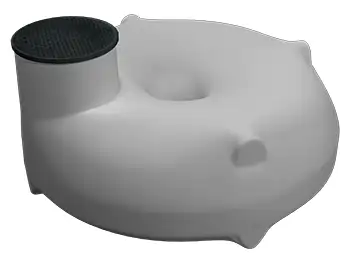 Utilization of Aquatec underground plastic tanks
Underground utilization
Rainwater tank
Accumulation tank for sewage water
Low profile underground plastic tank advantages
Low profile underground plastic tank for shallow and flat excavation and installation
Volume 3,2 m3
Excavation only 3,0 x 3,0 x 1,4 m (length-width-depth)
Rotational moulding without welds or joints
Long life-time
Low weight - 140 kg
Installation on a compacted sub-base (gravel sub-base)
Backfill material gravel 4/8 mm
Lockable cover
LOW PROFILE UNDERGROUND PLASTIC TANKS - TYPE TD
Low profile underground plastic tanks are 100% water resistant tank manufactured by the rotomoulding technology. Eliminating the possibility of groundwater occurence the tank is then placed on the compacted sub-base 25 cm thick including the overlapping footprint of the tank by 20 cm. In 30 cm layers 4/8 gravel is used for backfilling the tank and make up the sub-base. Inspection holes in 600 mm diameter are created for the inspection and depletion.The tanks include an integral extension.The inlet pipeline depth is 300 mm under the surface level used with the extension. Additional extensions are available for the deeper inlet. Consulting our trained staff for additional extension is recommended.
Low profile underground plastic tanks are designed with a pre-made inlet. Outlet point can be selected from pre-arranged positions during the installation. The tanks are assembled on the compacted sub-base without using concrete foundation slab. Lockable and UV stabilized cover is included.
Max. inlet pipe depth under surface level is 800 mm for installing a low profile underground plastic tank TD.
Installation video of low profile underground plastic tank TD:
Low profile underground plastic tanks - TD - dimensions:
Type
Volume
m3

Length x Width
mm

Total Height
mm
Foundation
TD 3,2
3,20
2400 x 2400
1180
Sub-base (gravel 4/8 mm)
THE TANK STANDARD FORMAT of low profile underground plastic tank Type TD:
polyetylene
natural white colour
Ø inspection hole 600 mm
inlet/outlet into the tank DN 125