Wastewater treatment plants AT 300 - AT 2000 oval MAXI with VFL® technology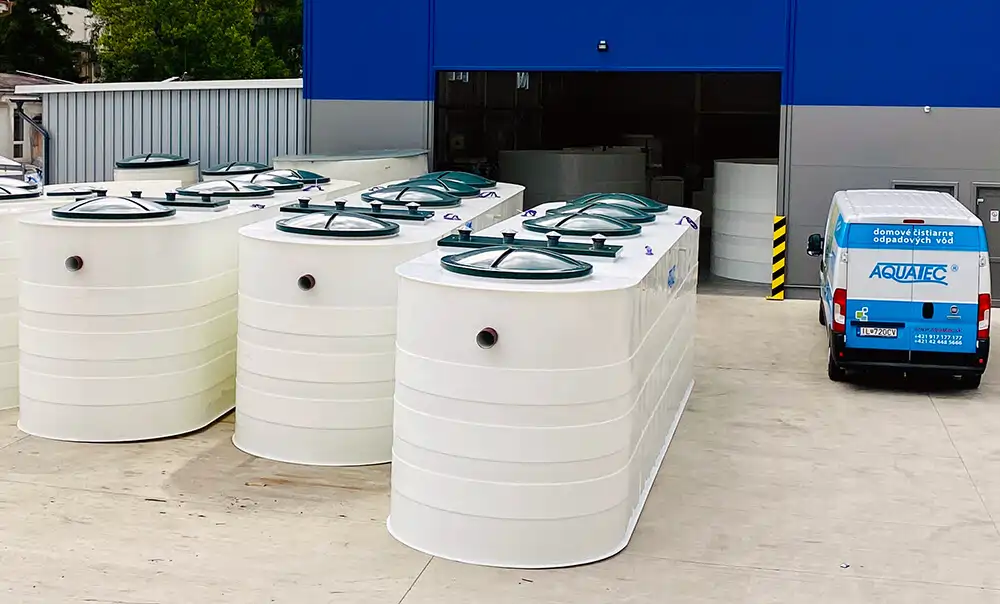 Wastewater treatment plants AT 300 to AT 2000 oval MAXI are designed for centralized wastewater treatment solutions in municipalities up to 2000 PE. Capacitively suitable for sewage sources from 45 to 300 m3 / day. They are supplied as a complete technological line supplemented by a pumping station with mechanical pre-treatment, homogenization tank, sludge management and a complete technical infrastructure. The parallel connection of individual biological reactors ensures the possibility of staged construction.
They are used for the treatment of sewage and municipal wastewater from municipalities up to 2000 PE.
Treated wastewater, after biological treatment or tertiary treatment, is discharged into surface waters.
Mechanical pre-treatment

Complete technical
infrastructure

400 V electrical
connection

for WWTP

Standard freight
vehicles transport

Possibility of staged

realization of the work

Remote control of

wastewater treatment plant

WWTPs are prefabricated,

containerized

(including operating building)
Installation of WWTP type AT 300 to AT 2000 oval MAXI
They are installed in the excavation as recessed tanks on a reinforced concrete foundation slab about 400 mm thick so that the upper edge of the inspection entrances (chimneys) protrudes about 50 mm above the prepared terrain.
The pumping station, the buffer homogenization tank and the sludge tank are installed in the same way. Above these tanks there is a container building with facilities for the operator and also rooms for mechanical pre-treatment, blowers and sludge management, which form the complete technical infrastructure of the treatment plant.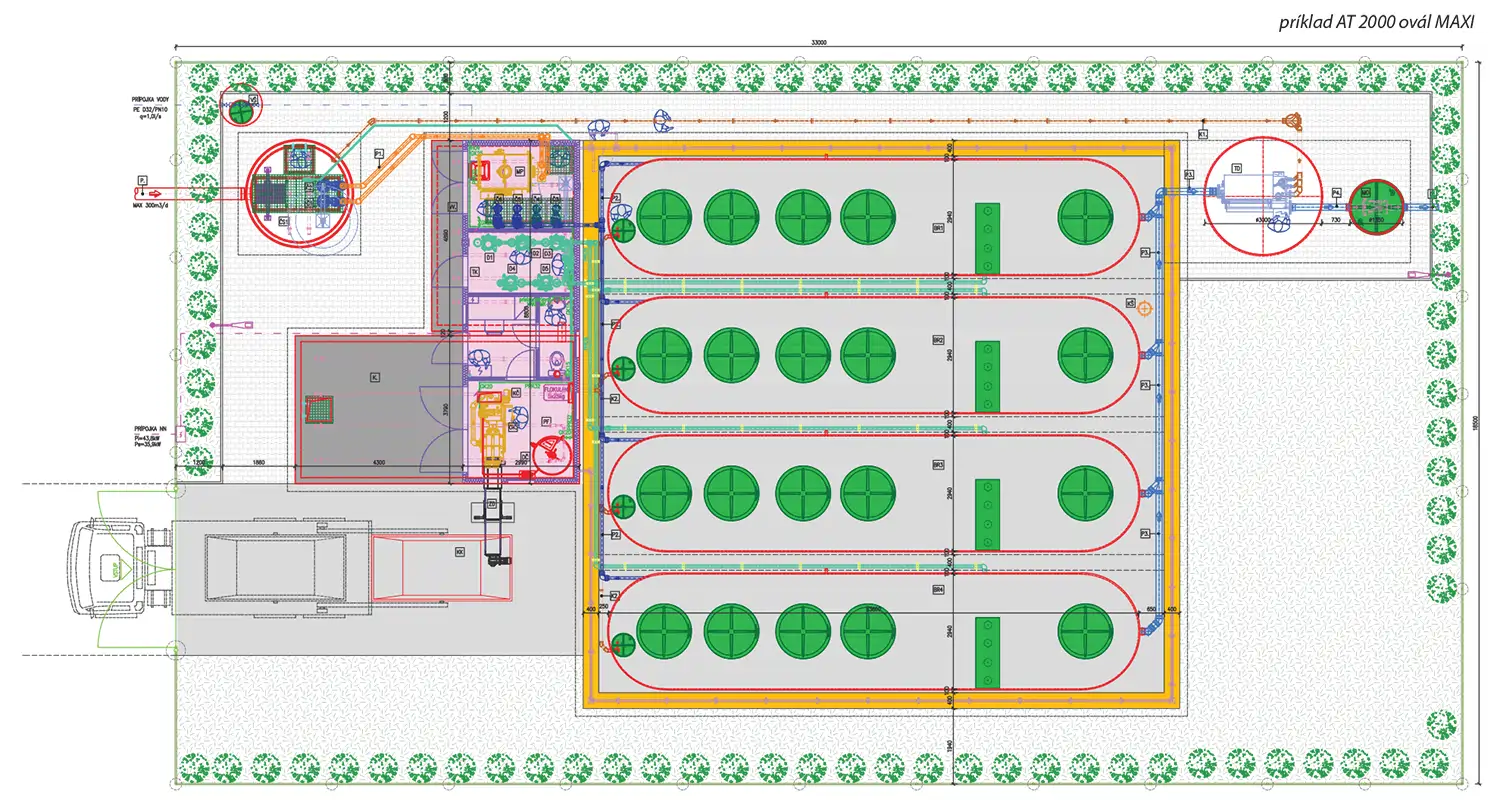 The guaranteed and commonly achieved parameters from the outpour of the wastewater treatment plants are shown in the table below. The quality of purified water corresponds with the Directive No. 359/2022 requirements in the Collections of Laws according to the Government of the Slovak republic for discharging the water into the ground or on the surface (51-2000 EO).
Values after biological treatment:
| | |
| --- | --- |
| Parameter | Commonly achieved values |
| CODCr | 35 mg/l |
| BOD5 | 10 mg/l |
| SS | 10 mg/l |
| N-NH4 | 2 mg/l |
| Ntot | 15 mg/l |
| Ptot | 1 mg/l* |
*
with chemical precipitation of phosphorus
Values after tertiary treatment:
| | |
| --- | --- |
| Parameter | Commonly achieved values |
| CODCr | 35 mg/l |
| BOD5 | 10 mg/l |
| SS | 10 mg/l |
| N-NH4 | 2 mg/l |
| Ntot | 15 mg/l |
| Ptot | 1 mg/l* |
*
with chemical precipitation of phosphorus
Technical parameters of Aquatec AT oval MAXI wastewater treatment plants:
WWTP Type

Daily inflow

[m3/d]

Designed load

[kg BOD5/d]

No. of
reactors

[pcs]

Usable volume
of reactors

[m3]

[m]

Total surface
area

[m2]

Power
input

[kW]

AT 300 oval MAXI
45
18
1

76,1

29 x 18,5
537

24,56

AT 400 oval MAXI
60
24
1
91,1
31 x 18,5
574
27,56
AT 500 oval MAXI
75
30
1
109,8
33 x 18,5
611
27,56
AT 600 oval MAXI
90
36
2
152,2
29 x 18,5
537
26,76
AT 800 oval MAXI
120
48
2
182,2
31 x 18,5
574
31,78
AT 1000 oval MAXI
150
60
2
219,5
33 x 18,5
611
31,98
AT 1200 oval MAXI
180
72
3
273,3
31 x 18,5
574
37,08
AT 1500 oval MAXI
225
90
3
329,3
33 x 18,5
611
38,68
AT 2000 oval MAXI
300
120
4
439,0
33 x 18,5
611
43,78